WELCOME TO THEN AND NOW
WE DECIDED TO POST PICTURES OF OUR ANIMALS THAT WERE ADOPTED AND WHAT THEY LOOK LIKE NOW WITH THEIR NEW FAMILIES.




Titan then Titan now






Shasta then Jiji aka Shasta now





Chicklet then Chicklet aka Jiji



Jax aka Aztec Jax now
then



BooBoo then and BooBoo aka Ginny now








Asia then and Asia aka Katie now.
She loves her new family.



Pixie then Pixie with her family




Pongo is a much loved member of the family, he is very happy in his forever home.



















Blaze Then
Blaze Now....He has a wonderful forever home w/ 2 great boy to look after him.
Aladdin Then
Aladdin Now known as Buster has a great life in his forever home.
Then - Our wild boy Kincade
Now - Kincade is doing wonderful in his forever home:
Here's what is adopter had to say about him.
Yeah! met this weeks goal!! He continues to become less reactive. and is starting to come up to me. Took to the saddle well. we practiced for several days before the photos. He is now ponying with ease beside my older gelding up to a trot. He is still a little skittish when I reach for him at times.... but so much better.
Red Then
Red loves his life now, he is very spoiled.
Shasta Then
Shasta now called Hannah is very happy. She is one lucky dog, she get to go to work with mommy.
Lunna Then
Lunna Now Know as Cincy is a very happy dog. Her daddy says she is wonderful girl.
Little Foot Then
Little Foot is very happy in her new home, and her new mommy and daddy love her very much.
Pippi Then
Pippi Now know as Sady.
She is a lucky girl to have such a great forever home.
Buttercup Then
Buttercup Now!
Buttercup and her little boy make a great team.
Tyson Then
Tyson has a great forever home as you can see he is quite happy being a couch potato with his BFF.
Bindi Then
Bindi now know as Bindy Lou is very happy in her forever home.
Nikita Then
Nikita now - She loves her forever home & she thinks snow is winderful to play in.
Glen Then
Glen now known as Adso is one lucky cat to have a little boy who loves him very much.
Sun Then
Sun now known as Oliver sure has a pampered life.
Blue Bell Then
Blue Bell Loves her forever family and is very happy.
Racer & Rhett
Then
Racer & Rhett are 2 very lucky cats. They look very cozzy together.
Chloe Bee Then
Chloe Bee is very happy in her forever home.
Our Senior dog Mandy Then.
Mandy was at the Olive Branch for many years, we very much loved her and miss her, but there is nothing better then being adopted into a loving forever home.
Mandy Now!!
We are all so happy Mandy will know what it's like to have a forever home and family in her golden years of life.
Einstein Then..
Einstein Now..What a happy boy.
Tyson Then
Tyson Now Nitro is very happy & loves his mouff hangin down big brother Max who was also adopted from OBARR.
Jack Then.
Jack now, He is very happy in his forever home.
Jill Then
Jill now Daisy is very happy in forever home.
Cappy Then Cappy Now
Teddy Then
Teddy now has a great family he is so happy
Reggie Then
Reggie Now.
Reggie sure is having fun getting into stuff.
Linus Then
Linue Now known as Maxi
he sure looks happy in his new home!
Poohbear then Now known as Gatsby
He sure is a happy puppy. His new mommy says he's Perfect!
Brady Then
Brady now
Brady was a very shy boy. He has sure thrived in his
forever home.
Nina Then
Now known as Dutchess
Dutchess is very happy in her forever home.
Joey Then
Now known as Sammie
He sure has grown into a very handsome boy.
Panda Then
Now known as Pepper
Wow Pepper sure is a lucky puppy to have
2 young boys to paly with.
Mia Then And
And now still Known as Mia.
Mia has a little piggy friend, Sophie!
Mia is very spoiled in her forever home.
An "WOW" have those ears grown.
Treckles Then
And Now still known as Treckels.
Treckles fit right into his Treckels is having lots forever family. What a beautiful playing in the snow.
Christmas card.
Mr.Ree Then
Now known as Aroo
He is a very happy boy in his forever home.
Matches Then.
know known as Patches.
She looks very Happy and spoiled in her forever home.
Max Then
&
Max Now
Max got just want he wanted for Christmas
A Forever Home!
Heidi Then
and Now..
Heidi was adopted by a nursing home.
Heidi is so happy, and they all love her very much.
Zeke Then
and.....
Look at Zeke Now, he is very happy
with his 2 new boys and from the look
on those faces they are very happy with Zeke.
Dixie Then
Now known as Eva
Eva is one lucky girl, she loves her new family & toys.
Snickers Then
Snickers Now
Snickers sure loves her little boy and Family!
She one happy pup!
Lizzy then.
Lizzy now.
Lizzy has her own bed & many toys to play with.
She is one luck dog!
Lizzy is checking out her new back yard.
Smokey then. Smokey now, he sure is a lucky
cat. Look how happy he is!
Lemon Then.
Lemon Now.
Lemon & Gracie are the best of friends.
Lemon has a great life.
Daddy serenads Lemon and Gracie.
Snicker Then.
Now look at Snicker, He is so happy with his new
little girl & from the look of that smile she's very
happy with him.
Snicker w/ his Bestest friend,
I just love the matching sweeters.
Chester Then.
Now know as Chewie.
Sending an e-mail
and here is what chewie had to say.
Dear OBARR Friends,
I wanted to send you another update on how things are going here in Pittsburgh. Every day I am feeling more relaxed in my new home. I love sleeping in bed with my family! We wake up in the morning and I try to catch their hands under the comforter! It's a lot of fun! Today, I played with my toy for the first time with Amanda. It was really fun to chase it around the house. I've started sleeping on my back sometimes (which makes me snore, but such is the life of a short nosed canine!). I go for car rides all the time, and I listen to my leash commands very well. I really love meeting other dogs, and was really happy when my the neighbor dogs Mia and Moe, invited me over for a play date at their house! Can you believe they are smaller than me!? They only weigh 7lbs each! Because we walk at the same time in the morning and evening, I am getting to know all the neighbors. All the grandpa's really love me. I think they are great too. The cats Itchy and Boshi are really starting to relax around me. Sometimes, Boshi and I even sit next to each other. I still take a lot of pride in my home, and only go potty outside. I am still pretty quiet, but when someone knocks on the door, I make sure to alert the family with some barks and growls. I am just trying to protect everyone.
Live here sure is different, but its good. I have already been to 4 different restaurants that allow dogs in their outside seating areas. I have also gone to see Jazz music live under the stars, and gone to ballet in the park. I don't know if I care so much about whats going on on the stage, but I sure do love getting to meet some new friends. Oh! I have a funny story to close my letter. When we were at the ballet, a nice lady came up to use with a very old but nice chihuahua. She was a newly rescued dog too, so we bonded right away! Unfortunately, my new friend thought Kevin's shoe was the perfect spot to go potty. So she did it right there. Amanda laughed, and thank goodness Kevin likes dogs!
I also went camping last night. It was fun and I stayed warm in my blankets. Seeing fire was scary at first... maybe it's the first time I have seen it... but it was fun to smell all the new smells out there.
Attached are some pictures of me having fun!
Love Always,
Chewie

Car Ride! Camping! Jazz in The Park!
LIFE IS GREAT!!
Carter Then.
Carter Now Sydney looking very handsome.
And just look at him with his best friend!
Brownie Then Now known as Josie.
What a happy beautiful girl she is.
Take my picture "Cheesssssssss Buggers"
Lizzie Then.
Lizzie Now
Lizzie's graduation, Lizzie with her
we are all so proud of her. best friend Cooper
Cher THEN,
And NOW
Know as Pontuffe.
Can you find me? She loves to go boating.
The whole litter Kiowa then (2005)
Kiowa was 1 of 9 puppies that were dumped in the park when they about 2 days old.
Kiowa now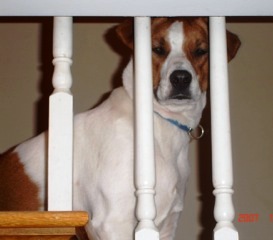 Luke then
&
Luke after with a wonderful letter
from his forever home.
Elsie then Elsie now w/ her sister DINAH-mite
Shortly after Elsie arived at her new home we recived this e-mail from her. It was to good not share with everyone.
The ride to my new home was uneventful. I went right in the car, and claimed
that crate as mine, and settled right in. Pat was surprised to see how
slight I am. Since neither my harness or new collar fit, we stopped at a
pet store on the way home for some new accessories. I met my new housemate
while we were both leashed. DINAH-mite and I have had a few harsh words.
She is a feisty one. I hear she is not feeling too well today. She seems to
be limping a little. I hope she feels better soon. Out in the yard, Pat
sat in a chair with DINAH on her lap. I like curling up under the same
chair close by. I keep Pat leashed to me most times. I want to make sure
that there is no trouble during the transition. We have all had play time
in the yard together, but I am not sure what to do with a ball. We even
went for a short walk through a part of the yard that Pat called "neutral
territory". We all got along pretty well then. The food is pretty good.
The menu included Science Diet Nature's Best lamb and rice formula. I even
had rice cooked in homemade chicken broth to spice it up. Honestly I did not have any leftovers. A few friends have stopped by for me to check them
out. Then we all took a nap this afternoon.
Life is good. I think that I am going to like it here.
Hey I thought that I was told I had all my shots already. I heard Pat say that after I am all settled in we are going to the vet for my wellness check. She mentioned I needed one more shot for Lyme disease. Hey I don't even eat citrus fruits, so why do I need a shot to protect me against limes?

Talk to you later,
ELSIE

Augusta then. Augusta after, what a
beautiful girl!!
Roxy before Rosie now, loves to play with her
friend Stella
Dancer before Dancer after look
at me take my picture!
Naala before Naala after, what a lucky girl
to get to play on the Beach
she sure is happy.
Drake before look at Drake after
how handsome
Marzart Before Look at Mozart now.
What a happy cat!
Aden then and just look at what a big boy he is becoming
Bing with his
new Family
Chase then
and look at him now!
Dixie Then.
And just look at her now.
Dodger all grown up
SCOOTER THEN AND NOW....SCOOTER WHAT ARE YOU DOING SITTING ON YOUR SISTER'S HEAD?
MOE AKA KONA THEN AND NOW WHAT A HANDSOME GUY!
PANDA AKA SKYLAR WITH THE BIG SMILE
Ruby then and Ruby today in her new home
Amie now known as Holly loves to have her
picture taken. Just look at that face.
Libbby is a very happy girl . Libby w/ her very best friend
in her new forever home, Rocky after a day at the water park
just look at that smile!!
Hansome aka Barney
Huck aka Riley
Barney and Riley are very happy boys, they love their forever home.
Barney & Riley w/ the rest of the family droped by to say Hi.
They are all very happy & WOW their brother sure gives meaning to the
term big brother.
Tara then and just look at her now what a joy to know that she has found a loving home.
Dexter THEN
and
Dexter NOW
Gabby Then
and Now...
Gabby Loves her new sister Maddy.
Chico before Chico cuddles w/ his new daddy. This is the good life
Freddy before Freddy is now Jacoby he is a happy boy.
Lulu then and just
look at her now
Mork then and just look at him now.